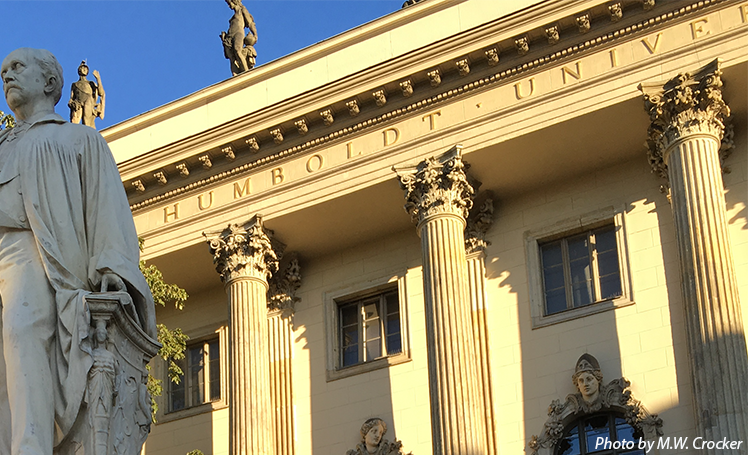 Please note that in summer semester 2021, I am on sabbatical (`Forschungssemester') and won't be teaching.

Affiliations

Institut für dt. Sprache und Linguistik
Humboldt-Universität zu Berlin
Einstein Center for Neurosciences Berlin
Berlin School of Mind and Brain
My research focuses on (real-time context effects in) language comprehension across the lifespan (in children, young, and older adults) and how we can accommodate these interactions in processing accounts and (computational) models. I examine visual context effects as well as linguistic context effects (e.g., using eye tracking or event-related brain potentials). How rapidly can comprehenders exploit different contextual cues and how do different world-language relations compare in their effects? Are context effects short-lived or protracted? (e.g., as revealed in post-experiment comprehension and recall scores, reflecting learning). What representations and processes much we assume to model how is language processing and learning informed by


object-based information and past, present, and future events

emotional, spatial, and social context


visual perception (of objects, events, speakers, and of the extralinguistic social context including visual gender cues, eye gaze, and facial expressions)

The processing of different world-language relations have been accommodated in high-level accounts of the interaction between sentence-processing and visual perception



Laboratories: Reaction time, eye-tracking, and EEG

Laboratory protocol (Non-PEER-REVIEWED, CC-BY license)

Overview of group members




Disclaimer: Wir distanzieren uns hiermit ausdrücklich von allen Inhalten aller verlinkten Seiten und machen uns ihre Inhalte nicht zu Eigen. Diese Erklärung gilt für alle auf unseren Seiten angebrachten Links zu fremden Seiten.